Ian R. Clayton: Author, Publisher, CEO |
Author:  – The True Story of Barbados Character. Rogues and Heros, Place and History. Told with subtle humour, rogues is an insightful and in-depth narative of a remarkable people
In prgress https://Roguesinparadise.com/about
Tourism Technology books:   "How to Build Your Business Online" series.  Marketing Hotels& Tourism Online series.  Website, Digital Media, Technology
CEO AXSES Tourism Development & Publishing. Publisher of TavellersInsights Magazine and several marketing and technology blogs
Artificial Intelligence Development in Personalisation. Helps hotel and destinations deliver truly personal holiday experiences. FascinatingTravelers.com/business
Matching travelers with hotel and holiday experiences that fit their personality
Marketing Hotels & Tourism Online – Book Series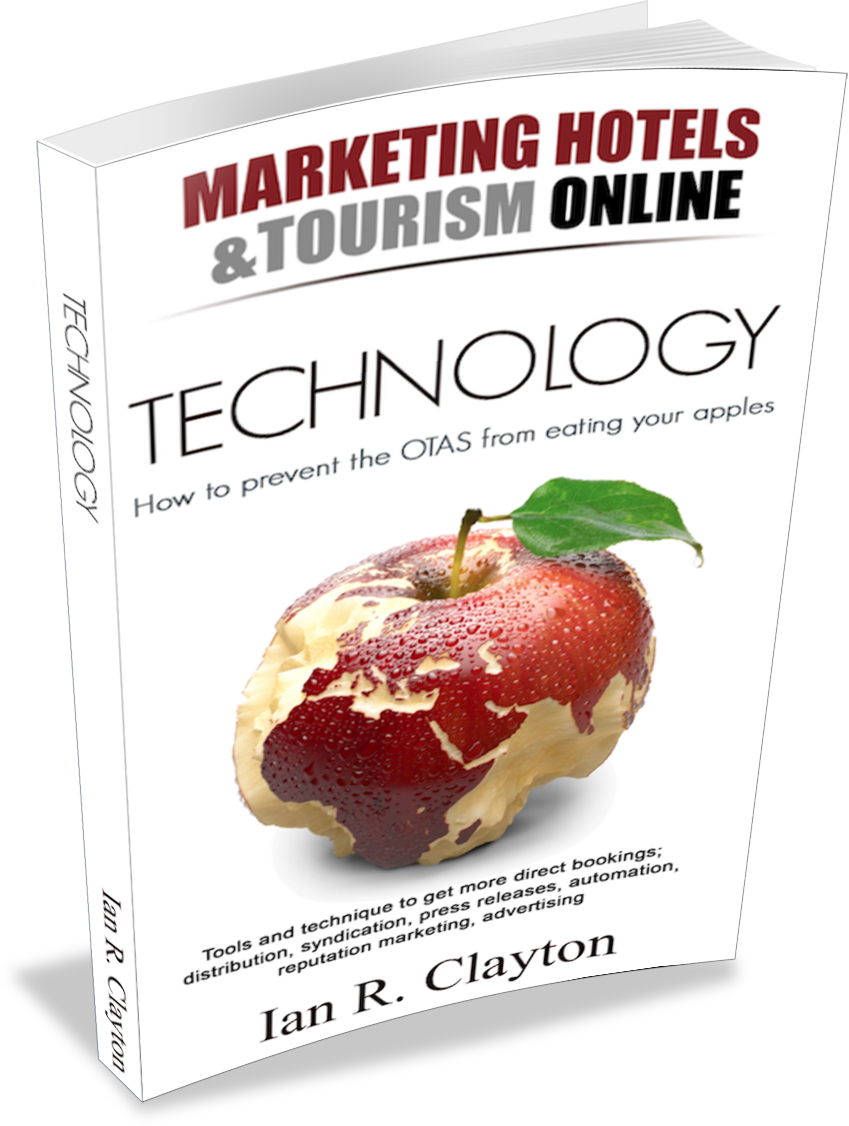 Marketing Hotels and Tourism Online- book 1 Website
HOTEL WEBSITE MARKETING STRATEGIES
The first in the series of  hotel and tourism marketing
#1 Besteller
Marketing Hotel And Tourism News, Research and Tutorials Blog
How to Build Your Business Online
BOOK – out of print

Travelersinsights.com
Dominica-Magazine
Bigearth TV, April 2009, Barbadso By Any Means
Hi Society Magazine, February 2004.  Hi Travel Barbados. 
World Saga Travel Journals 1999- present. Barbados history and lifestyles.
1994-1996. Video, research and editorial, graphics, photography,
mapping, HTML and programming. Site launched
in 1997.
GIS and Multi-media


Used to promote and Sustain Tourism
Earth Observation Magazine, September, 1994. Review of a GIs implementation
for tourism planing and promotion.
Sensitivity Mapping
Earth Observation Magazine, July 1994. Presented a system approach to
developing sensitivity indexed for impact assessment and contingency planning.

Coastal Zone Management, Sulawesi, Indonesia
CIDA,
1994. Worked with a multidisciplinary team of
professional environmentalist, coastal engineers and legislative authorities
to develop an Information Atlas for North Sulawesi, Coastal Zone Planning
and Management (CIDA Water Resource Project). Information included statistical
data as well as geo-physical and natural resource data obtained from air
photo interpretation and site inspection.
Spatial technology
as an aid to Sustainable development of natural resources
Department of Natural Resources- NS, 1993. Coordinated and was principle
author of a study to assess relevant technology in planning and managing
the development of Natural Resources. (Department of Natural Resources,
Nova Scotia. Preliminary analysis and strategic assessment).
Strategic Planning and Promotional systems for Tourism
ACOA,
1992. Study of the application of relevant technology including GIs
and Multimedia to tourism. (Study conducted for ACOA as part of an analysis
of a concept to use multimedia and spatial systems for the development
of a comprehensive tourism planning and promotional system).
GIs and eco-systems management in the Caribbean
CIDA,
1992. Study funded by CIDA under the starter study program to explore
the potential of using GIs as an aid to sustainable development and
ecosystems management in the Caribbean.
GIs in Marine Applications
Sea Technology,
1991. Published article on a new digital environmental Information Atlas
and distributed decision support system for resource managers and researchers.
(Gulf of Maine GIs Database Aids Oceanographers, Resource Managers.
Sea Technology, November 1991).
Computers in Education
Computer in Education, November 1991. Paper discusses potential educational
uses of GIs, particularly in the area of environmental studies. (Computer
Software for Environmental Studies, )
Computer Distribution in the Maritimes
ACOA,
1988. Study to classified the systems professionals in the Maritimes.
Reviewed the cost structure of distribution in Canada and in the Maritimes.
Evaluated the potential for computer assembly and distribution in the
region.
Large Scale Systems Automation
1982. Project
study, systems design and co-ordination for the conversion to an automated
on line invoicing and inventory system within a large multi-national organisation.
Conducted concurrently with Masters of Computer Science programme.
Paperless Multi-Branch transactions
1979. A concept
for Electronic Document Interchange developed for Anixter International.
This was later adopted and widely publicised by IBM.
Electronic Document Management System (EDMS)
1986. Evaluated
aspects of the emerging technologies in Image capture, laser disks, CD-Rom
and interactive video etc. Reviewed the leading EDMS software and customer
potential.
Retail Plumbing,
"An Analyses of Supply and Demand"
Westburne,
1972. A follow on study to the distribution report of 1970. This focused
on the "Do It Yourself" phenomena and its impact on the plumbing
and electrical trades.
Mechanical Trades Distribution Study
Westburne,1970.
A private study conducted for Westburne International of the trends and
opportunities in distribution within the mechanical trades in Canada.
The one Hundred page report was circulated to all company directors and
managers and became the framework for strategic action.
Caribbean Study
1969 . A 6
month study of the Caribbean for potential Canadian investors. Study reported
on all leeward islands and covered Political and social conditions, infrastructure
and real estate. It was presented to the Board of Directors and resulted
in a modest investment in Barbados. .